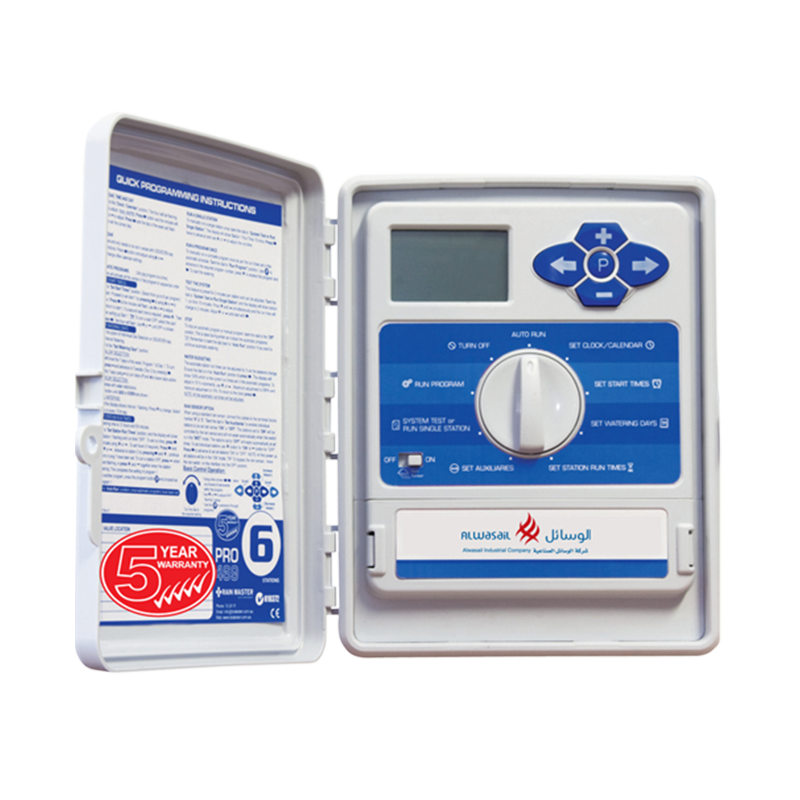 Features and Benefits
The Next Generation In Professional Irrigation Controllers that links directly to a rain sensor.
Designed for residential and light commercial applications, the PRO 469 has six individual programs to allow for efficient watering of turf and garden areas on separate watering programs.
This product features the new Rain Sensor Ready (RSR) technology which allows individual stations to be controlled by a rain sensor.
Electrical Specifications
Electrical power supply Internal Transformer

Input: 220-240 Volt AC
Output: 24 volt AC, 1.25 Amps. (30VA)

Electrical Outputs

Maximum of 1.0 Amp
To the Solenoid Valves: 24 VAC 50/60 Hz 0.75 Amps maximum
(Runs up to 3 valves)
To the master Valve / Pump Start: 24 VAC 0.25 Amps maximum
Note: The transformer and fuse capacity must be compatible with output requirements.
Overload Protection

 Standard 20mm 1.0 Amp fuse.

Power Failure

 Permanent memory holds programs.
For more information about this product and its related items, you may check and browse the catalog below:
Alwasail Irrigation Product Catalog 2017-2018 Catalog