APPLICATIONS:

Precision irrigation
Uneven terrain
Greenhouses and nurseries
Orchards
Gardening
Landscaping
Hydroponics
Soilless culture
Pulse irrigation
EMITTER FEATURES: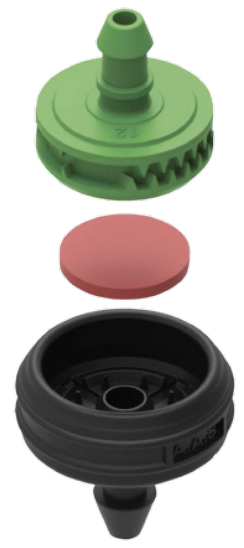 Pressure Compensating (PC): Hodhod PC emitters incorporate a silicone membrane, allowing for the delivery of precise and equal amounts of water across a wide pressure range. They are designed for precision irrigation needs, ranging from home gardens to advanced hydroponic applications.
Ultrasonic Welding Technology: Hodhod PC's advanced welding process addresses a common issue faced by online emitters: leakage between the body and the cover. This is prevented by a unique parallel formation and welding of the cover around the edge of Hodhod PC's body, ensuring zero leakage under any climatic or pressure conditions.
Drain (D) and Non-Drain (ND) Options: Hodhod PC's Non-Drain system ensures that the pipe remains full of water between irrigation intervals, guaranteeing immediate and uniform irrigation throughout the pipe. The Non-Drain emitters minimize drainage and refill effects, enhancing efficiency in pulse irrigation. To achieve the Non-Drain function, the emitter opens at 0.30 bar and closes at 0.20 bar.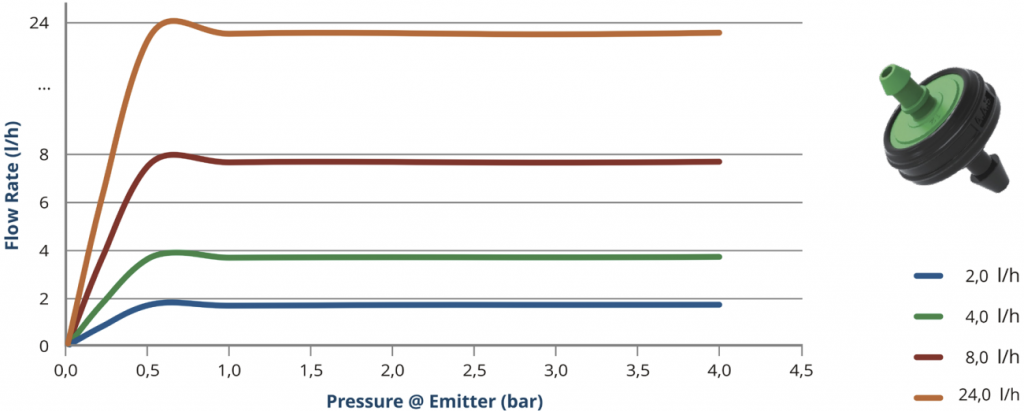 Cylindrical labyrinth with wide water passages. Color dis-tinction for different flow rates.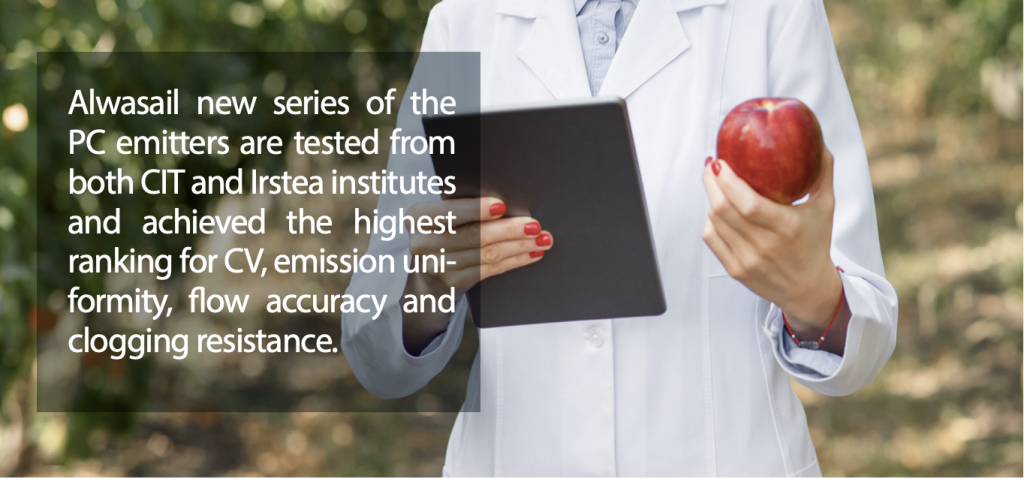 SPECIFICATIONS:
Color-coded for a wide range of flow rates: 2.0, 4.0, 8.0, and 24 l/h.
Hodhod PC is suitable for installation in pipes ranging from 12 mm to 32 mm in diameter with wall thicknesses from 0.9 mm to 1.2 mm.
Extensive pressure compensation range.
Cross-shaped water inlet.
Broad and precise water passages throughout the labyrinth.
Unique labyrinth design ensures a highly turbulent water flow.
A continuous self-cleaning mechanism guarantees non-clogging and consistent emitter operation.
Offers high UV resistance.
Resistant to standard agricultural nutrients.
Injection-molded emitters with an outstanding Coefficient of Variation (CV).
Hodhod PC emitters can be manually installed exactly where needed.
Emitter count can be increased to match tree growth rate water requirements.
Hodhod PC's design permits the installation of a manifold outlet with multiple outputs.
One outlet type is compatible with a 3 mm internal diameter micro-tube and press-fit nipple connectors.
The design of the Hodhod PC emitter offers all the advantages of larger online emitters but in a compact form, with a total height of 28 mm. This makes it the perfect choice in terms of value.
TECHNICAL DATA:

PART NUMBER SYSTEM:

A 24 l/h emitter is available with a cap to protect the outlet from clogging by particles.
TECHNICAL DATA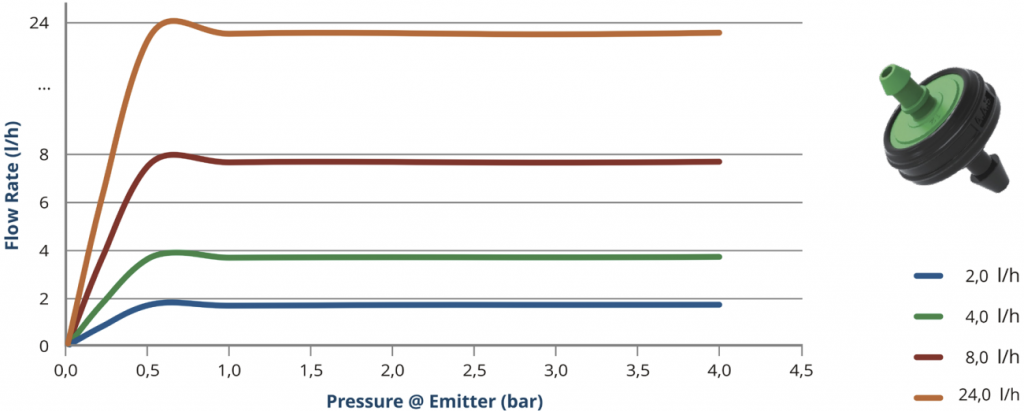 Color Codes for Drain Hodhod Online PC Emiter

Color Codes for Non Drain Hodhod Online PC Emiter

Packaging

For more information about this product and its related items, you may check and browse the catalog below:
PC Drip Catalog