General Information about Alwasail Spiral Pipes
Spiral two-layer corrugated pipes, made of high-density polyethylene or polypropylene, consist of an inner smooth wall and an outer corrugated spiral wall. The pipe is produced by continuously extruding and welding a smooth inner layer, over which a corrugated profiled outer layer (reinforcement) is wound. The outer layer comprises smaller, high-strength, ribbed sections coated with polyethylene or polypropylene, while the inner layer is made of high-density polyethylene or polypropylene. The inclusion of a profiled hose in the outer layer significantly enhances the pipe's strength. The production technology enables various steps (profiles) in winding the profiled outer layer, resulting in different levels of pipe strength. For this reason, Alwasail spiral corrugated pipes can be produced in various stiffness classes.
PHYSICAL PROPERTIES OF MATERIALS
Impact Resistance: These materials feature high impact resistance even at low temperatures, guaranteeing compactness and strength in products made entirely of the highest quality materials. The standard reference procedure for determining resistance to impacts is EN 744.
Better Hydraulic Characteristics: The internal diameters and hydraulic characteristics of Alwasail PE and PP SPIRAL pipes remain consistent over time, regardless of the profile type, due to the greatly reduced roughness and low adhesiveness of the pipes' inner walls. The nominal diameter corresponds to the pipe's inner diameter, subject to allowable deviations as per reference norms.

UV Resistance: Black polyethylene pipes are weather-resistant to the effects of UV radiation, thanks to the addition of soot evenly dispersed in the polymer base. Therefore, these pipes can be used and stored in open spaces for an appropriate period without material damage. Polypropylene pipes, being partially resistant to UV radiation, can be stored outdoors but only for a limited period (up to 6 months).
Physical Properties of PE Material
Density: 959 g/cm3, according to ISO 1183
Elastic modulus: 1050 MPa, according to ISO 527
MRS classification: 10 MPa, according to ISO 12162
Charpy impact strength: 23 MPa, according to ISO 179
Vicat softening temperature: 71°C, according to ISO 306
Coefficient of linear thermal expansion: 0.13 mm/m°C.
Chemical Resistance of Material
Alwasail PE SPIRAL pipes are resistant to salty water, alcohol, acids, alkaline, sulfates, aggressive gases, and all kinds of detergents. However, they cannot be used for transporting water containing a high percentage of benzene, benzene (petrol), or acetone.
Physical Properties of PP Material
Density: 900 g/cm3, according to ISO 1183
Elastic modulus: 1300 MPa, according to ISO 527
Tensile strength: 28 MPa, according to ISO 527
Charpy impact strength: 70 kJ/m2, according to ISO 179
Temperature Resistance of Materials
PE pipes are resistant to temperatures up to 60°C short-term and 40°C long-term. Polypropylene, known for its high-temperature resistance, imparts this property to pipes made from this material, with PP SPIRAL pipes being resistant to temperatures up to 95°C short-term and 60°C long-term.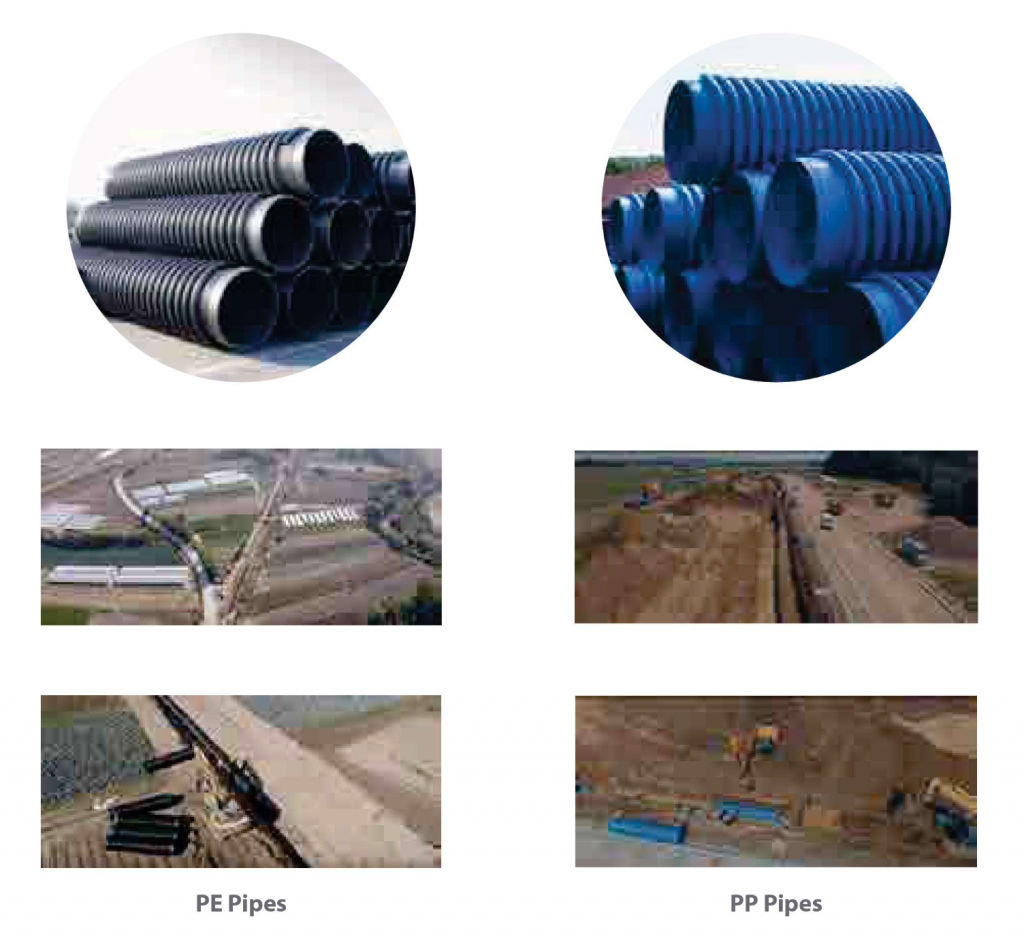 PRODUCTION PROGRAM
Alwasail PE SPIRAL pipes, designed for large sewer systems or non-critical water transport, are available in two groups. These are made of the highest quality polyethylene (PE) or polypropylene (PP) and feature profiled reinforcement in the ribs. The diameters range from 300mm to 3000mm.
These pipes are typically produced in a standard length of 6 meters, but can be manufactured in other lengths to meet specific project specifications. Alwasail SPIRAL pipes are available in various strength variants, offering different levels of resistance to external loads. This variability is dependent on the profile step of the reinforced outer layer and the pipe diameter. The range of strengths spans from SN2 to SN32.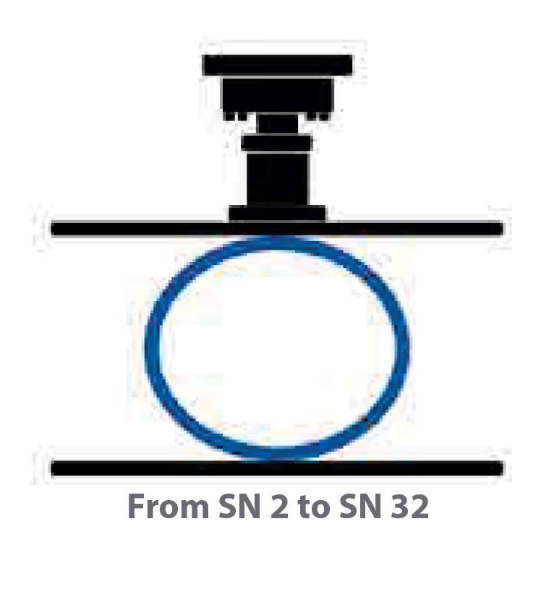 Production program of pipes and strength class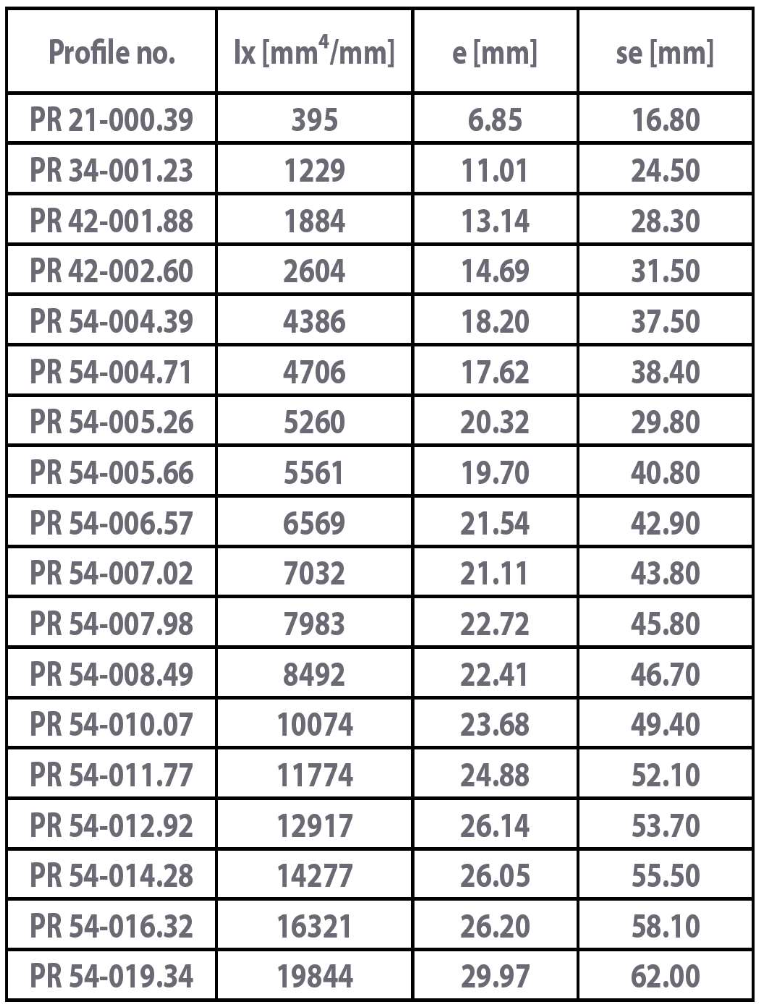 SALIENT FEATURES
KEY PROPERTIES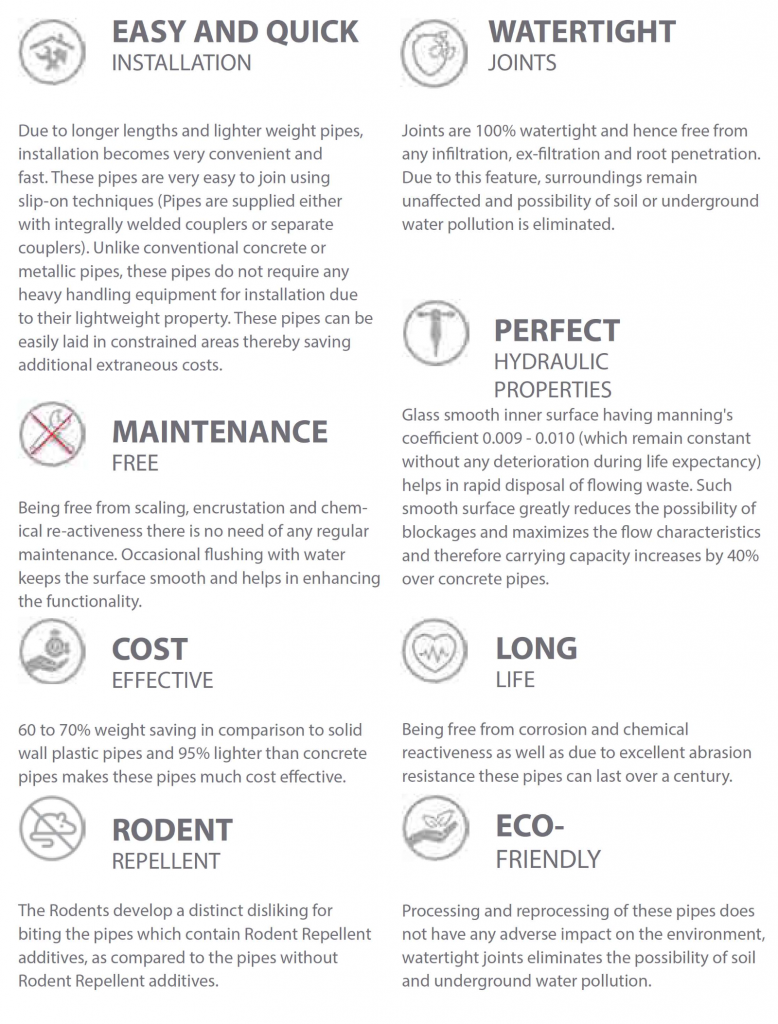 Alwasail pipes are automatically produced with a socket and spigot, adaptable to the following jointing techniques:
ELECTRO FUSION JOINT
This is the most preferred joint system, as the whole pipe system becomes a homogenous unit. A welding wire, included in the socket or spigot, is heated using a special welding device, thereby joining the two pipe ends (socket and spigot) together. The electro-fusion jointing technique is a very favorable, simple, and secure method to install pipes in even very narrow trenches in a short time.
V SEAM EXTRUSION WELDING

The pipes and fittings are joined using an extrusion welding extruder. The outside of the pipe ends is milled off. This process produces a welding seam that resembles a 'V' shape. Normally no socket-spigot connection is used. The welding has to be done according to DVS 2207 Part 4.
EXTRUSION WELDING

The pipes and/or fittings to be connected are jointed by a socket and spigot joint. Thus, the two pipe ends are connected using an extrusion welding device. The jointing method can be carried out inside and/or outside of the pipe. This jointing is most suitable for low-pressure gravity pipes and manholes. The welding has to be done according to DVS 2207 Part 4.
BUTT-WELDING METHOD

The pipes and fittings are joined using a heating element butt welding machine. The ends of the pipes and fittings are butt-welded. This jointing method is only recommended for pipes and fittings with a maximum wall thickness of 150 mm and with diameters from DN/ID 300 mm to DN/ID 2500 mm. The welding has to be done according to DVS 2207 Part 1.
FLANGE CONNECTION

The ends of the pipes and fittings are joined using a steel flange and a rubber gasket. Either the flange adapters are fully integrated with the pipe, or the flanges are available as separate fittings. This jointing method is mostly used for open-sea discharge applications and for tank connections. The greatest advantage of this connection is the facility for disjointing.
GASKET CONNECTION

Our system features a solid plain socket and spigot, each with integrated EPDM sealing. The minimum wall thicknesses of the spigot conform to EN 13476-3 Table 7. Additionally, the combined ring stiffness of the socket and spigot exceeds the ring stiffness of the pipe.
APPLICATIONS:
Due to the versatility of Alwasail pipes, with all their different kinds of profiles, they are applicable in all kinds of application fields:
• Stormwater applications.
• Sewerage applications
• Water treatment plants
• Culverts
• Sea Outfall
• Relining of Old Pipelines
• Slotted Drain Application
• Floats
• Rubbish Chutes for High-Rise Buildings
• On-Site Detention System (OSD)
• Pipe Jacket and Pipe Sleeve
• Rainwater harvesting and groundwater recharge
• Road/highway cross drainage
• Sea outfall and intake lines.
• Landfill drainage systems.
• Storage tanks (water, food, chemicals, mineral oils, and more) and manholes.
• Air ducts, tunnels, mining, and ventilation applications.
• Irrigation.
• Special applications
• Industrial applications
These applications are a very few and the Spiral pipes are finding a new uses almost
regularly adding further benefits to this superior technological marvel at a very fast
pace
SPIRAL PIPES
Spiral HDPE Pipe manufactures a spirally wound structured wall pipe from PE-HD, known as SPIRAL Structured Wall HDPE Pipe. The SPIRAL Structured Wall HDPE Pipe system is economical and competitive, as the structured wall concept creates a pipe with superior ring stiffness, utilizing considerably less raw material than conventional solid-walled thermoplastic pipes of equal stiffness.
HDPE/PP profiled spiral wound pipe systems, available in various stiffness classes, are designed for utility and industrial applications. These pipes are made from high-density Polyethylene (HDPE) or Polypropylene (PP). The diameter of the HDPE/PP Profile pipe ranges from DN/ID 300mm to DN/ID 3400mm. The ring stiffness options include SN2, SN4, SN8, SN16, or can be customized according to customer requirements.
Spiral pipes, made of high-density polyethylene, are two-layer corrugated pipes consisting of an inner smooth wall and an external corrugated spiral wall. The tube is produced by continuously extruding and welding a smooth inner layer, over which a corrugated profiled outer layer of high-density polyethylene is wound for reinforcement. The outer layer comprises smaller ribs of high-intensity hose coated with polyethylene, while the inner layer is made of high-density polyethylene. The inclusion of a profiled hose in the outer layer significantly enhances the pipe's strength. The production technology allows for various steps (profiles) in the winding of the profiled outer layer, enabling different levels of pipe stiffness. As a result, Alwasail spiral corrugated pipes can be manufactured in various stiffness classes
For more information about this product and its related items, you may check and browse the catalog below:
Spiral Pipes Catalog